Introducing the 1st Autumn International Music Fest & Masterclasses Hyderabad 2018, India – A Collaboration between music educators and performers from India & Europe.
The city of Hyderabad is going to witness its first International Collaboration on Western Classical and Indian Music – the 'Indo-European Chamber Orchestra', that will be blooming in the Autumn of October, 2018. We will be having young and advanced musicians attending the Fest from different parts of India.
Michael Makhal, an internationally known Indian Composer and Conductor, will be launching the 1st Autumn Classical Music Fest & Masterclasses in Hyderabad with the collaboration of European stalwarts Maestro Alessandro Viale (Concert Pianist & Conductor, Rebecca Raimondi (Violinist) and Urška Horvat (Cellist). The Workshop, culminating with a Concert on 28th October at the Ravindra Bharathi Auditorium, the Fest will begin on 23rd October 2018 and go till 28th October 2018 in Hyderabad.
The Main Sponsor of the Fest is MedPlus. Our Associate Partners are Musee Musical and Keys Western Music Academy.
Keep your eyes on Facebook:
Autumn Fest: Autumn International Music Fest – Hyderabad
Orchestra: Indo-European Chamber Orchestra
MMSO: Michael Makhal Symphony Orchestra – India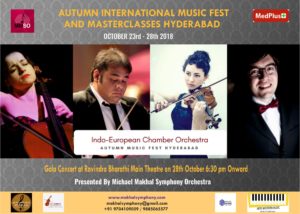 The purpose of the festival is to develop the Western Classical Music scene in India and also, to create a common platform wherein both Indian and Western Classical music can mingle. The vision is to produce an educational festival and have international collaborations, cultural exchange and opportunities to learn the deeper aspects of the Western Classical Music which is still a rare form of musical art in India. The 'Autumn Fest 2018 Chapter' will present a valuable scope to the Western Violin, Cello and Piano students in India to come and have masterclasses from the three European Gurus. It will be our goal to guide the Western Classical music students and professionals in India on their precious musical journey through our festival and masterclasses every year.
Contact: Email Us!